Volunteer Montreal – Winter 2015.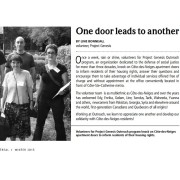 Once a week, rain or shine, volunteers for Project Genesis Outreach program, an organization dedicated to the defense of social justice for more than three decades, knock on Côte-des-Neiges apartment doors to inform residents of their housing rights, answer their questions and encourage them to take advantage of individual services offered free of charge and without appointment at the office conveniently located in front of Côte-Ste-Catherine metro.
The volunteer team is as multiethnic as Côte-des-Neiges and over the years has welcomed Edy, Enrika, Golam, Line, Sondus, Tarik, Waheeda, Yvanna and others, newcomers from Pakistan, Georgia, Syria and elsewhere around the world, first-generation Canadians and Quebecers of all origins!
Working at Outreach, we learn to appreciate one another and develop our solidarity with Côte-des-Neiges residents!
Line Bonneau, Outreach volunteer, Project Genesis
https://genese.qc.ca/wp-content/uploads/2015/04/2014-12-volunteer-montreal2.jpg
616
857
Ahmar Husain
https://genese.qc.ca/wp-content/uploads/2013/04/Project-Genesis-Logo-English-180.png
Ahmar Husain
2015-04-13 18:45:30
2015-04-13 18:54:12
One door leads to another