Because there are very few affordable apartments available for rent in the neighbourhood, tenants often have to put up with an apartment in poor repair. The high demand for apartments means that there is less incentive for landlords to keep their apartments in good repair.
Every day, Project Genesis sees people who are facing dire housing problems. The most common problems found in the Côte-des-Neiges-NDG borough's rental housing units are vermin infestations (cockroaches, mice, rats or bedbugs), inadequate heating, and mould, to name only a few.
The City of Montreal's municipal inspectors are the most immediate public resource for tenants when they have a problem that affects their health or safety. Inspectors can be called to enforce the municipal housing code for any problem that affects the health or safety of the tenant.
UP CLOSE AND PERSONAL
(Click on the image)

The housing code itself is quite powerful; it is a potentially effective mechanism to ensure that tenants' housing rights are respected. However, many of the powers given to the borough and the city are either underused or inconsistently applied.  At the same time, in our borough we have between 4 and 6 inspectors for 52 430 housing units[1].  Thus, even though the CDN-NDG borough responds to hundreds of complaints every year, tenants still struggle for decent housing. Through lobbying and advocacy work we fight for a better application of the housing code on a local level.
[1] Statistics Canada, Census 2006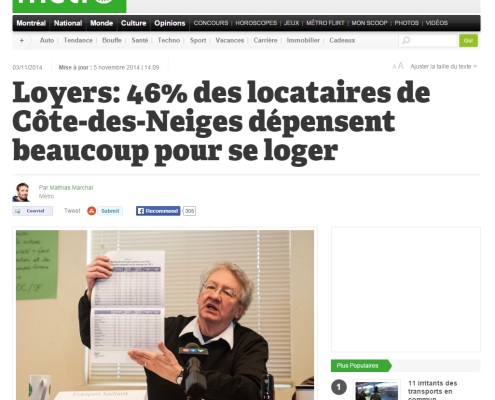 https://genese.qc.ca/wp-content/uploads/2014/12/2014-1105-metro-loyers.jpg
1028
1026
Ahmar Husain
https://genese.qc.ca/wp-content/uploads/2013/04/Project-Genesis-Logo-English-180.png
Ahmar Husain
2014-12-16 17:40:49
2015-03-24 19:17:13
Loyers: 46% des locataires de Côte-des-Neiges dépensent beaucoup pour se loger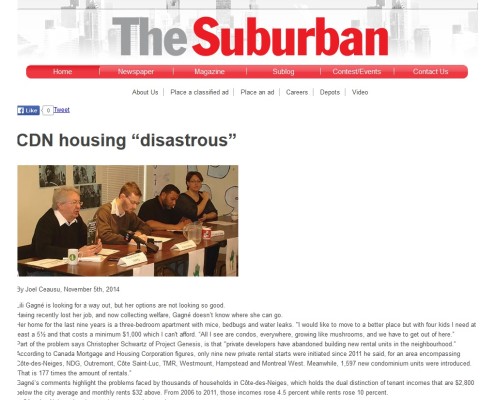 https://genese.qc.ca/wp-content/uploads/2014/12/2014-1105-suburban-cdn-thumb.jpg
1018
1022
Ahmar Husain
https://genese.qc.ca/wp-content/uploads/2013/04/Project-Genesis-Logo-English-180.png
Ahmar Husain
2014-12-16 17:19:05
2015-03-24 19:16:09
CDN housing "disastrous"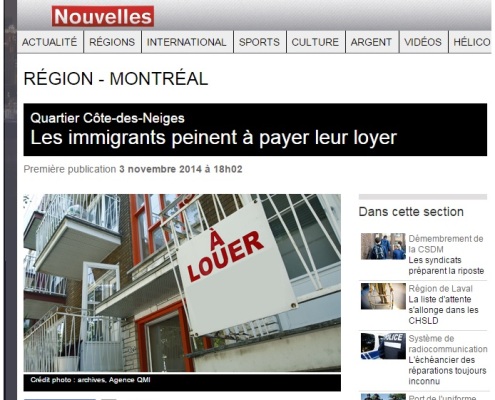 https://genese.qc.ca/wp-content/uploads/2014/12/2014-1103-tva-les-immigrants.jpg
694
694
Ahmar Husain
https://genese.qc.ca/wp-content/uploads/2013/04/Project-Genesis-Logo-English-180.png
Ahmar Husain
2014-12-16 16:56:47
2015-03-24 19:13:05
Quartier Côte-des-Neiges : Les immigrants peinent à payer leur loyer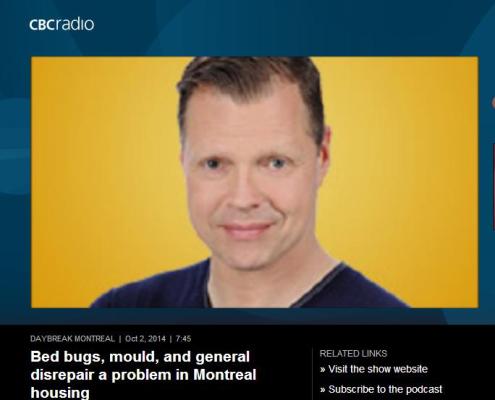 https://genese.qc.ca/wp-content/uploads/2014/12/2014-1002-cbc-daybreak-bed-bugs.jpg
693
684
Ahmar Husain
https://genese.qc.ca/wp-content/uploads/2013/04/Project-Genesis-Logo-English-180.png
Ahmar Husain
2014-12-12 15:09:13
2015-01-21 09:09:46
(Audio) Bed bugs, mould, and general disrepair a problem in Montreal housing