Many people living in poverty rely on public transit for getting around. However, the high price of transit tickets and monthly passes can mean limiting trips to only those which are absolutely essential, such as going to medical appointments and buying groceries.
For some, even these have to be done on foot. Not being able to get around easily is an obstacle to those seeking to improve their social and economic situation. Supporting a social rate for public transit fares provides opportunities for people in poverty to participate in their communities, decrease isolation, volunteer, and access public services such as libraries and job-search centres.
Project Genesis is a member of and supports the work of the Mouvement collectif pour un transport public abordable (the Collective Movement for Affordable Public Transit).
UP CLOSE AND PERSONAL
(Click on the image)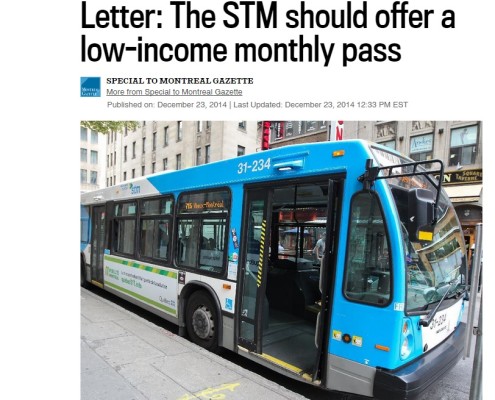 https://genese.qc.ca/wp-content/uploads/2015/01/2014-1223-gazette-letter-stm.jpg
812
812
Ahmar Husain
https://genese.qc.ca/wp-content/uploads/2013/04/Project-Genesis-Logo-English-180.png
Ahmar Husain
2015-01-06 10:57:37
2015-03-24 19:27:08
Letter: The STM should offer a low-income monthly pass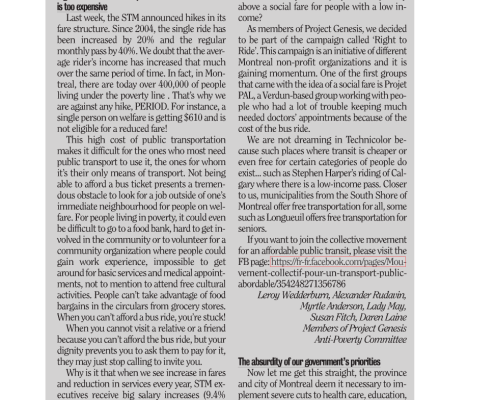 https://genese.qc.ca/wp-content/uploads/2014/12/2014-1210-suburban-right-to-ride.png
970
972
Ahmar Husain
https://genese.qc.ca/wp-content/uploads/2013/04/Project-Genesis-Logo-English-180.png
Ahmar Husain
2014-12-16 10:59:26
2015-03-24 19:25:53
Letter: Right to ride: When even public transit is too expensive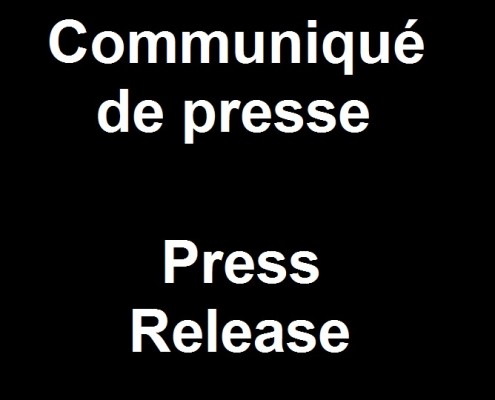 https://genese.qc.ca/wp-content/uploads/2014/12/communique-de-presse-press-release.jpg
664
668
Ahmar Husain
https://genese.qc.ca/wp-content/uploads/2013/04/Project-Genesis-Logo-English-180.png
Ahmar Husain
2014-12-16 09:38:18
2015-03-28 10:41:58
Le Mouvement collectif pour un transport public abordable : Le MCPTPA dénonce les hausses de tarifs annoncées par la STM