For the last 20 years, Project Genesis, along with Côte-des-Neiges residents and community organizations, has been advocating for 2,500 social housing units to be built on the Blue Bonnets site. Formerly a racetrack, this large plot of vacant land measures over 43 hectares and is located in the west of our neighbourhood, close to the corner of Décarie and Jean-Talon. Blue Bonnets is the last available site for large-scale development of social housing in Côte-des-Neiges.
Construction on the site is expected to begin in 2017, and it is estimated that 5000 to 8000 housing units could be built on the site. However, there are competing visions for the development of this land. One proposal is for an internationally renowned, eco-friendly, state-of-the-art development that will attract middle-class families from the suburbs back to the island of Montreal. The main purpose of such a development would be to allow households to buy property on Blue Bonnets.
UP CLOSE AND PERSONAL
(Click on the image)

In Côte-des-Neiges, 41% of the population lives under the poverty line [1], and access to property is rarely an option for them. Furthermore, almost a quarter of households are dedicating over 50% of their income to rent [2], when the Canadian Mortgage and Housing Corporation considers 25% of one's income to be a healthy amount to pay for housing. Even worse, over 4,000 households pay more than 80% of their income for housing [3].
Meanwhile, only 3.1% of the housing stock in Côte-des-Neiges is social housing compared to 9% on average in Montréal [4]. The 2483 [5] households on the waiting list for low-cost housing in CDN-NDG wait an average of 5 years before getting access to housing they can afford.
The planning underway for this site is generating great interest and constitutes a critical juncture for our neighbourhood. While the idea of an innovative project is laudable, one question proves critical: who will be able to live at Blue Bonnets?
To be inclusive, Blue Bonnets must be developed in continuity with the existing neighbourhood and constitute a response to the critical housing needs of low-income households in Côte-des-Neiges. Given the lack of available vacant land and the high levels of real estate speculation in the neighbourhood, local organizations are working to ensure that this project address the needs of current neighbourhood tenants.
[1] Statistiques Canada, census 2006
[2] idem
[3] idem
[4] CDC de CDN portrait statistique (Recensement 2006), p.21
[5] Office Municipal d'Habitation de Montréal, chiffres en date du 30 septembre 2013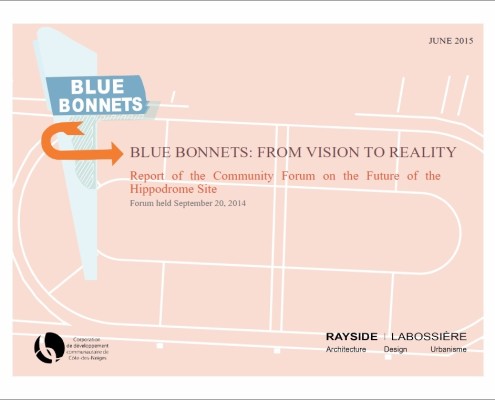 https://genese.qc.ca/wp-content/uploads/2015/08/2015-06-BB-cover-E.jpg
761
981
Ahmar Husain
https://genese.qc.ca/wp-content/uploads/2013/04/Project-Genesis-Logo-English-180.png
Ahmar Husain
2015-08-05 19:11:51
2015-08-05 19:41:11
Forum Report: Blue Bonnets: From Vision to Reality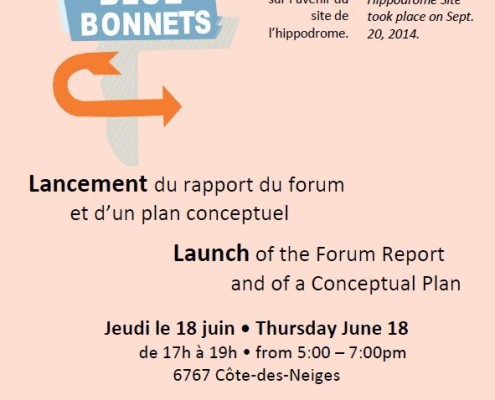 https://genese.qc.ca/wp-content/uploads/2015/06/2015-0618-bb-forum-report-plan.jpg
765
591
Ahmar Husain
https://genese.qc.ca/wp-content/uploads/2013/04/Project-Genesis-Logo-English-180.png
Ahmar Husain
2015-06-11 09:54:17
2015-06-19 09:36:39
Launch of the Blue Bonnets Forum Report and of a Conceptual Plan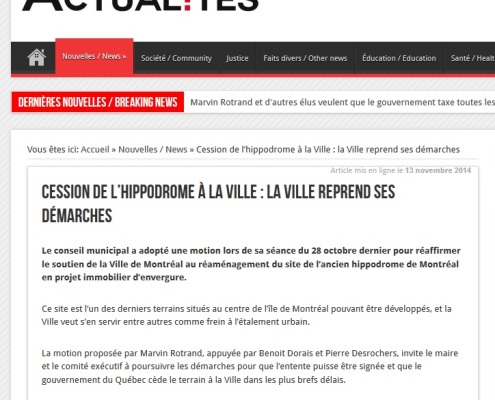 https://genese.qc.ca/wp-content/uploads/2014/12/2014-1113-actualites-cession-de-lhippodrome.jpg
724
724
Ahmar Husain
https://genese.qc.ca/wp-content/uploads/2013/04/Project-Genesis-Logo-English-180.png
Ahmar Husain
2014-12-16 11:41:03
2015-03-24 19:22:42
Cession de l'hippodrome à la ville : la ville reprend ses démarches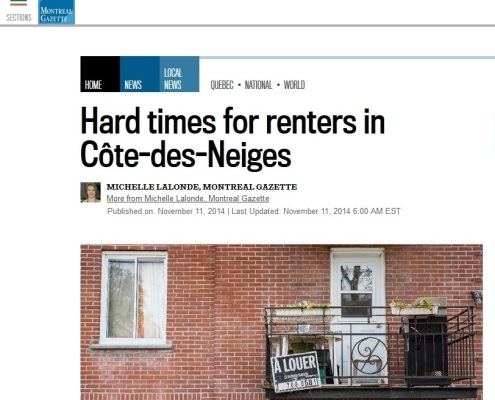 https://genese.qc.ca/wp-content/uploads/2014/12/2014-1111-Gazette-hard-times2.jpg
818
812
Ahmar Husain
https://genese.qc.ca/wp-content/uploads/2013/04/Project-Genesis-Logo-English-180.png
Ahmar Husain
2014-12-02 16:20:24
2015-03-24 19:19:18
Hard times for renters in Côte-des-Neiges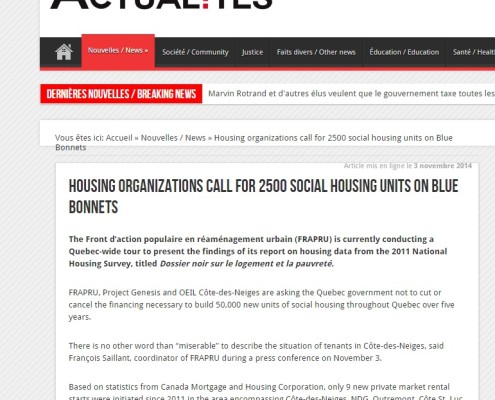 https://genese.qc.ca/wp-content/uploads/2014/12/2014-1103-actualites-housing-organizations2.jpg
771
771
Ahmar Husain
https://genese.qc.ca/wp-content/uploads/2013/04/Project-Genesis-Logo-English-180.png
Ahmar Husain
2014-12-08 14:42:29
2015-03-24 17:40:50
Housing organizations call for 2500 social housing units on Blue Bonnets