When a landlord opens a case at the Rental Board for non-payment of rent by a tenant, the Rental Board will schedule an eviction hearing in an average of 6 weeks. But when a tenant has a serious repair problem — problems like vermin or mould infestations, water damage, etc. — they have to wait an average of 20 months before getting a first hearing (general category). This disparity in treatment at the tribunal undermines the ability of tenants to defend their rights.
While waiting for their hearings, tenants have two choices: to continue to live in conditions that have serious consequences on their health and well-being, or to uproot themselves and move to another apartment which may be more expensive and/or turn out to be in equally bad condition. How can they exercise their rights when they must wait for longer than the length of an average lease for a hearing?
There are a number of housing groups fighting against these long waiting times.
Even the Quebec Ombudsperson (an employee of the government) has denounced the Rental Board delays.
UP CLOSE AND PERSONAL
(Click on the image)

As more and more people take a stand and speak out, the stronger we become. Our experience has led us to to recommend that:
All  cases be heard on a first-come first-serve basis within 3 months.
All urgent cases that gravely impact health and safety be heard within 72 hours.
The Quebec government provide the Rental Board with the necessary resources to hire enough commissioners (Rental Board judges) to make this happen.
Project Genesis members work together with those of the P.O.P.I.R.-Comité logement to reduce waiting times for hearings at the Rental Board.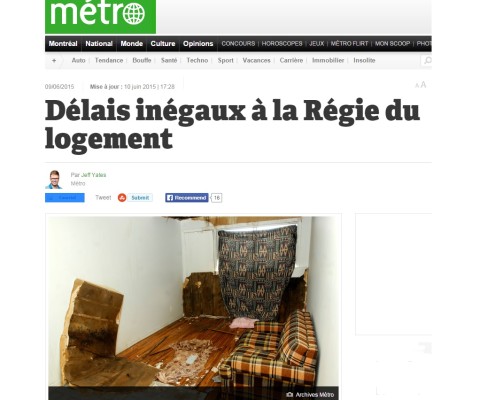 https://genese.qc.ca/wp-content/uploads/2015/07/2015-0610-metro-delais-inegaux.jpg
878
1054
Ahmar Husain
https://genese.qc.ca/wp-content/uploads/2013/04/Project-Genesis-Logo-English-180.png
Ahmar Husain
2015-07-13 16:22:23
2015-07-13 16:32:24
Délais inégaux à la Régie du logement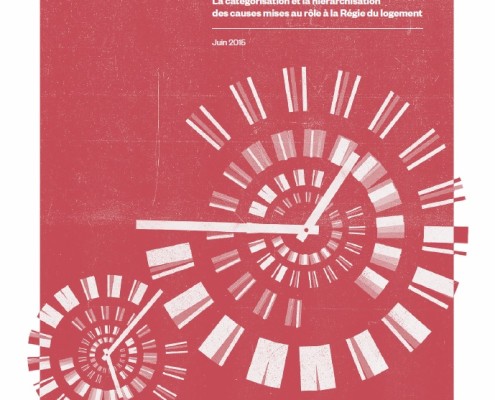 https://genese.qc.ca/wp-content/uploads/2015/06/justice-a-deux-vitesses.jpg
895
689
Ahmar Husain
https://genese.qc.ca/wp-content/uploads/2013/04/Project-Genesis-Logo-English-180.png
Ahmar Husain
2015-06-10 11:56:17
2015-06-10 11:57:53
Rapport : L'organisation d'une justice à deux vitesses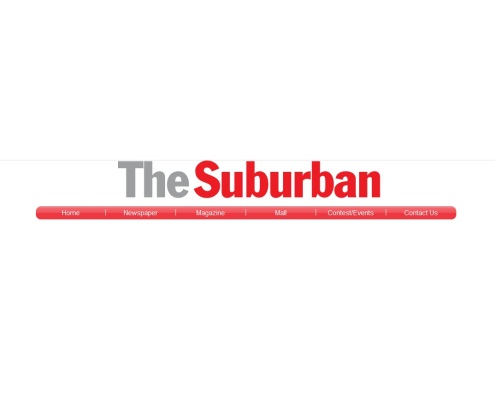 https://genese.qc.ca/wp-content/uploads/2014/02/suburban.jpg
868
1250
Ahmar Husain
https://genese.qc.ca/wp-content/uploads/2013/04/Project-Genesis-Logo-English-180.png
Ahmar Husain
2015-04-14 09:22:34
2015-04-14 09:22:46
Housing advocates call Régie 'slow and unresponsive'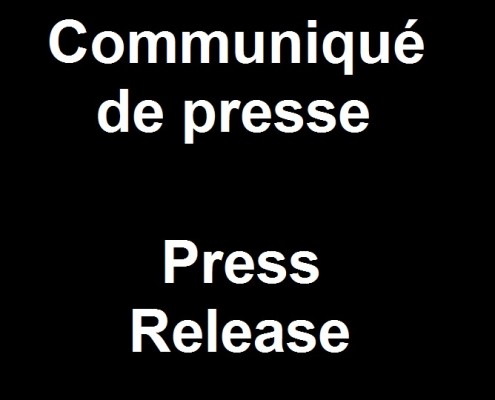 https://genese.qc.ca/wp-content/uploads/2014/12/communique-de-presse-press-release.jpg
664
668
Ahmar Husain
https://genese.qc.ca/wp-content/uploads/2013/04/Project-Genesis-Logo-English-180.png
Ahmar Husain
2015-02-23 16:16:21
2015-03-28 10:34:43
Régie du lentement : Les locataires pris en otage interpellent le ministre Moreau