Immigrants, singles hardest hit by rental housing crunch
Montreal Gazette – November 11, 2014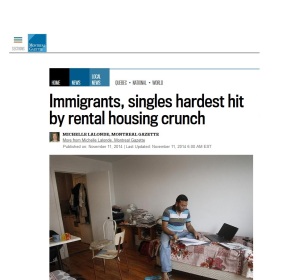 One in five tenants in Montreal are really struggling, but recent immigrants and single people are the subgroups that are hardest hit by what housing activists are calling the worst rental housing crisis since the end of the last recession in the mid-1990s.
Issues that affect immigrants and single people are seldom addressed during election campaigns. If they talk about housing at all, candidates might suggest policies to improve the plight of middle-class families. Some may even pitch ideas about getting homeless people off the streets.
With economic hardships vastly affecting some of the people who have moved to Canada, potentially in the hopes of finding some economic stability, it is understandable that some of these individuals might be considering other ways of making money, that are alternative to traditional employment. Whilst some may be looking into funds for support, some might be gathering advice about programs such as the Quebec investor program, among other investment funds to potentially start their own business, which might be a good alternative, if they were thinking about becoming self-employed. However, there are many people for who this might not be a suitable option, who are struggling in these times of economic uncertainty.
Meanwhile, in one of every five rented households across this city, tenants are experiencing a grinding, daily anxiety over how they will make ends meet, because they are spending more than half of their household income on rent. Among tenants who are single or recent immigrants, one in every two find themselves in that situation.
"People think of the homeless in that traditional sense of sleeping on the street, but there is a huge problem of people who are constantly in these precarious housing situations where they can't pay their rent and they keep getting evicted, so they sleep rough on people's couches for a month or two and then start again" said Chris Schwartz, a community organizer with Project Genesis, a housing advocacy group.
Forty per cent of tenants in Montreal pay more than 30 per cent of their income on rent. Thirty per cent is the level beyond which The Canada Mortgage and Housing Corporation has determined a household will have to cut in other essential areas – basics like food, clothing, school supplies etc. – to pay the rent.
For 21 per cent of Montreal tenants, rent eats up more than half their income. And for more than one in ten (10.9 per cent), rent takes over 80 per cent of monthly income.
But if you are a recent immigrant or a single person, you are much more likely to be in that scrimping category; 51.4 per cent of immigrants who arrived after 2006 pay over 30 per cent in rent. And 51.5 per cent of single people do so.
Mohammad Tofazzal Hossain, 37, falls into both categories. He is single and arrived here from Bangladesh in July 2012. He recently welcomed a journalist and photographer into his tiny one-bedroom apartment in Mile End, seating us at a small card table in his bedroom, the only place to sit. He generously offered us a bag of chanachur – a spicy snack popular in his native Bangladesh – and a box of Timbits.
The bedroom has two single beds, one for him and one for his male roommate. There is a tiny kitchen, infested with cockroaches he notes, and a bathroom. The rent is $500 a month.
Hossain has had no income for months now, so the roommate is covering the rent for now. Hossain has a degree in computer engineering from the University of Dhaka, but so far in Montreal he could only find part-time work cleaning up after hours at a bar. He lost that job in April, after he fell on broken glass while working and seriously injured his ankle. His meagre unemployment insurance benefits have now run out.
"If I didn't go to the food bank, how would I survive?" he asks. Welfare is not really an option for Hossain, as the government would reclaim that money from his sponsors. Penalizing them for helping him is the last thing Hossain wants to do.
Across Quebec almost half a million rental households (479,750 individuals or families) are spending more than 30 per cent of their monthly revenues on rent. Within that half a million, 227,835 devote more than half of their income to rent, and 108,475 spend more than 80 per cent on rent.
Housing groups like the FRAPRU are worried Premier Philippe Couillard might cut back, or even cancel, planned spending on new social housing as part of his austerity plan. The province builds between 2,000 and 3,000 units of social housing a year; FRAPRU is calling for 50,000 new units to be built over the next five years.
Michelle Lalonde
https://genese.qc.ca/wp-content/uploads/2014/12/2014-1111-Gazette-immigrants-singles4.jpg
908
972
PG
https://genese.qc.ca/wp-content/uploads/2013/04/Project-Genesis-Logo-French-180.png
PG
2014-11-11 16:51:45
2021-01-01 11:02:29
Immigrants, singles hardest hit by rental housing crunch