Montreal Gazette – January 29, 2015
(En anglais)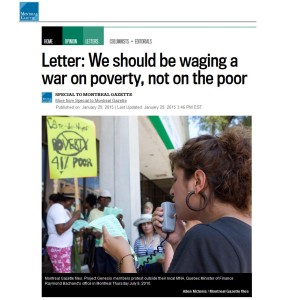 Re: "Quebec to make changes to welfare program" (Montreal Gazette, Jan. 29)
One of the changes to the welfare system proposed by the Quebec government will make it harder for people on welfare to have roommates in order to split the rent. Given that the basic welfare cheque of $616 doesn't even cover the average rent of a 3 1/2 in Montreal, the government is putting welfare recipients in an impossible situation: We won't allow you to have enough income to cover the rent alone, but if you try to band together, we'll call it income and cut your cheque.
As for the indexation of welfare benefits, they went up by a whopping 1.06 per cent this year.
According to Statistics Canada, in Quebec, the price of food in stores went up 4.9 per cent this year. The hydro rate went up by 4.3 per cent as well.
The poorest among us are falling further behind. Government policies have become less effective at redistributing wealth over the past 30 years. How much longer will the people of Quebec stand by while the government wages this irrational war on the poor when we should be waging a war on poverty?
Cathy Inouye (community organizer at Project Genesis), Montreal