Montreal Gazette – October 6, 2014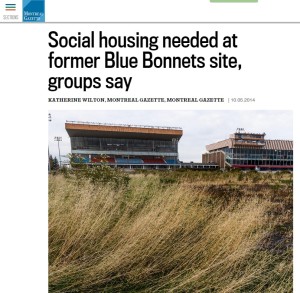 Every time Chanchal Patel strolls past the former Blue Bonnets racetrack, she hopes that one day she will be able to buy a house on the site.
"There are so many people who need housing in this neighbourhood," Patel said on Monday during at news conference in Côte-des-Neiges. "Sometimes I dream of having a house there."
For more than 20 years, community groups in Côte-des-Neiges have been lobbying to have social housing built on the vast tract of land west of the Decarie Expressway. But community leaders say they're worried that the city of Montreal may be reneging on a plan to build residential housing on the site. The proposed development would be one of the largest residential development projects on the island of Montreal.
La Corporation de développement communautaire de Côte-des-Neiges, which represents about 50 community groups, says they were alarmed to read a story in The Gazette last week that said the plan to build up to 5,000 housing units on the property has stalled. They're also concerned that an agreement for Quebec to cede ownership of the 43.5-hectare property to the city of Montreal was never signed and worry that the city may scrap a plan to build residential units in favour of commercial or industrial development.
"Blue Bonnets must be used to respond to the housing needs in Côte-des-Neiges," said Sheetal Pathak of Project Genesis. "It must be residential development and changes in orientations cannot happen without public consultation."
The community groups say that want assurances from Mayor Denis Coderre that the city is committed to building residential housing on the site. The group would like to see 2,500 social housing units built as part of the plan because of the lack of adequate housing in Côte-des-Neiges, said Jennifer Auchinleck, a community organizer with La Corporation de développement communautaire.
"We need clarity terms of the agreement and a timetable, and we want assurances from the mayor and executive committee that the land will be used for residential development," Auchinleck said.
City councillors and community groups who have worked for years on plans for the site believed the agreement had been signed and development was progressing, albeit behind schedule due to upheavals at Montreal city hall. Construction was supposed to start in 2017 and finish by 2025.
Marvin Rotrand, city councillor for Snowdon, said last week that civil servants at city hall have told him the project will be delayed for years and he fears that there is a movement away from residential construction without any public consultation.
But Coderre said on Monday that the he's committed to developing Blue Bonnets and said there will be mixed housing built on the site. He said he plans to discuss the topic with provincial ministers in the coming weeks.
Katherine Wilton, Montreal
© Copyright (c) The Montreal Gazette