CBC News – October 6, 2014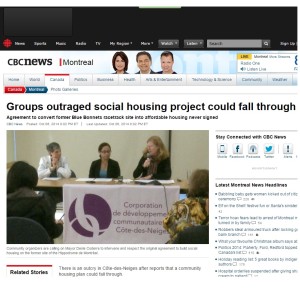 There is an outcry in Côte-des-Neiges after reports that a community housing plan could fall through.
Last week, news broke that an agreement to convert the former Hippodrome de Montréal site into affordable housing had never been signed. Community organizers are calling on Mayor Denis Coderre to intervene and respect the original agreement.
"Condos here, condos going up there — we are not a part of it," said Leroy Wedderburn, a member of Project Genesis, one of the groups asking the mayor to commit to turning the site — once called the Blue Bonnets Raceway — into housing.
He said many in the community feel they are watching the community grow without input from residents, and elected officials are not paying attention to those who need assistance.
"[There's] no interest for the small man and the poor people [who] need it most," said Wedderburn.
In 2012, the city announced that this prime real estate would become residential, bringing 2,500 social housing units to a borough where more than 4,000 people spend the majority of their income on rent.
Community groups are worried that without a signed deal the site's residential vocation could be reconsidered.Hippodrome site (Image: CBC)"We're demanding clear answers from Denis Coderre and from the executive committee," said Jennifer Auchinleck with the Community Development Corporation.
"Buildings have to be demolished. There are no sewers. There are no water mains, there are no streets. So we're looking at a horizon of maybe five, ten years down the road," he said.