Our Anti-Poverty work builds on our perspective that everyone has the right to the financial means to provide for a decent quality of life.
Week after week, we see the effects of extreme poverty on many people who come to Project Genesis for services. We believe that no one should be forced to live in poverty, least of all in a society as rich as our own.
We work to overcome the root causes of poverty in our community through community mobilization, awareness campaigns, interactions with public officials, and coalition work.
Our Anti-Poverty Committee (APC) is made up of local residents who bring their passion and experience to this issue.
The Dignity Support Action Group is made up of individuals whose personal experiences with welfare have inspired them to take collective action against poverty.
Anti-Poverty Issues We're Working On
Welfare rates need to be raised to levels that allow people to live with dignity, The current rates do not allow people to cover living expenses such as rent, food, and their basic daily needs.
In 2013, those receiving the base category welfare rate of $604 per month did not have enough to cover even half of their basic expenses, according to data made available by the Quebec government.
People receiving welfare, regardless of the category, live well below the poverty line and struggle to afford their rent, groceries, heating and other essential expenses.
Read more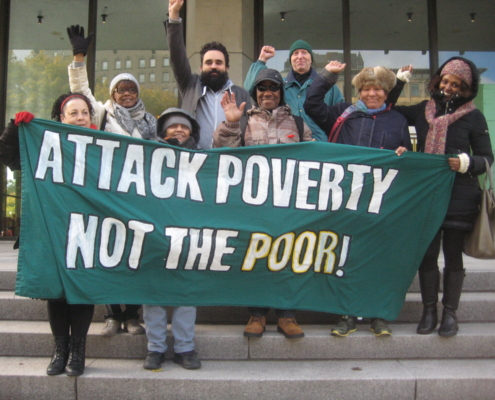 Members of Project Genesis' Dignity Support Action Group are an integral part of our Anti-Poverty work. Through facilitating meetings, writing letters, and participating in educational activities, they shed light on the financial hardship faced by those receiving welfare and work collectively towards the goal of increasing welfare benefits.
Dismantling myths and prejudices towards people receiving welfare is one of the ways we work towards achieving positive change. Our members and volunteers take part in various creative activities to increase awareness of the realities of life on welfare, such as participating on a community radio show, and creating an art exhibit that was displayed at various locations in our neighbourhood.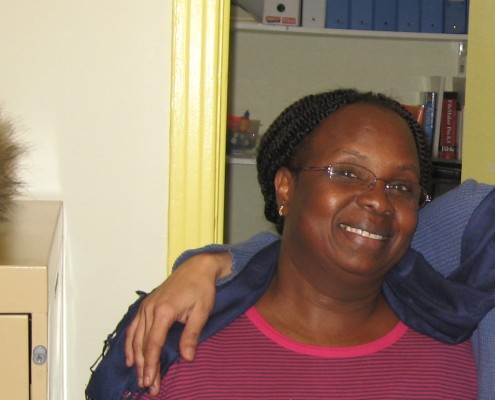 "I find all my work on the Anti-Poverty Committee inspiring and fulfilling, but a particularly fond memory is of our "Snakes and Ladders" game which highlights the vicious cycle that is life on welfare; no matter what one does, one does not have sufficient income at the end of the month. It garnered a great deal of interest (when we presented it to a wider audience) – people were really drawn to it.

Through our committee, we continue to work towards a solution – and I think there is one out there. We need to ensure that people are treated with dignity."
Aissatou, Anti-poverty committee volunteer
Improving access to welfare
Applying for welfare and accessing benefits has become increasingly complicated. Improvements are needed to make this process more direct and humane, and responsive to the needs of applicants.
Since 2008, Project Genesis' Storefront staff has seen a notable increase in the number of people seeking support in their application for welfare. We have been documenting and denouncing the progressive depersonalization and dehumanization of services taking place at local welfare offices (Centre local d'emploi, or CLE).
Read more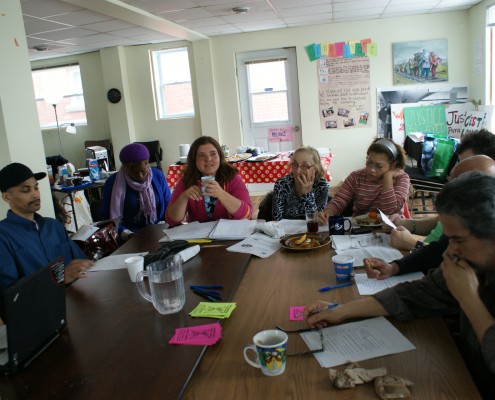 In partnership with other community organizations working with people receiving social assistance, we are calling for much-needed improvements to make the welfare system more accessible.
These include re-establishing the possibility of direct telephone contact between applicants and welfare agents, reducing the number of documents required to prove eligibility for benefits, and the possibility of applicants requesting a face-to-face meeting with an agent to explain their situation.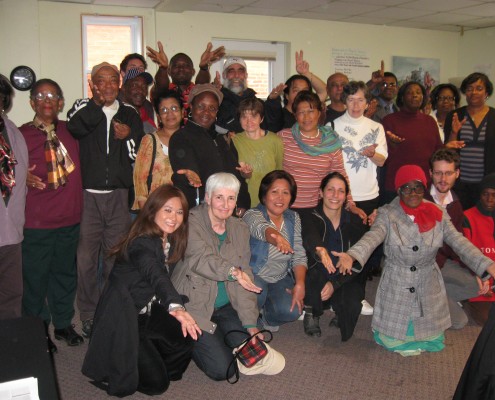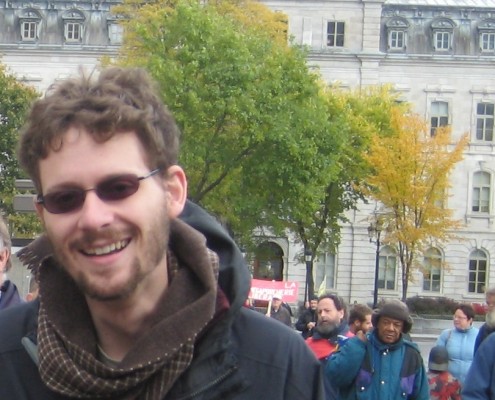 "As I think back, a big thing that sticks out for me is how members of the Anti-Poverty Committee forcefully brought their demands straight to the attention of those in positions of power as well as into the public spotlight. Our members met with our MNA's office, participated in and asked questions during several local candidates' debates during the election and wrote an opinion piece on what Quebec's budget should look like, which was published in a local paper.

All of these important actions, a few amongst the many which we accomplished, were undertaken to meet an enormous challenge: breaking the silence surrounding poverty in our community and putting this issue front and centre."
Chris, Project Genesis community organizer
Supporting a social rate for public transit
Many people living in poverty rely on public transit for getting around. However, the high price of transit tickets and monthly passes can mean limiting trips to only those which are absolutely essential, such as going to medical appointments and buying groceries.
For some, even these have to be done on foot. Not being able to get around easily is an obstacle to those seeking to improve their social and economic situation. Supporting a social rate for public transit fares provides opportunities for people in poverty to participate in their communities, decrease isolation, volunteer, and access public services such as libraries and job-search centres.
Project Genesis is a member of and supports the work of the Mouvement collectif pour un transport public abordable (the Collective Movement for Affordable Public Transit).
Read more
WHAT DOES IT MEAN TO NOT BE ABLE TO AFFORD BASIC PUBLIC TRANSPORTATION IN ONE'S LIFE?
Towards the end of 2014, the STM announced hikes in its fare structure. Since 2004, the single ride has been increased by 20% and the regular monthly pass by 40%. We doubt that the average rider's income has increased that much over the same period of time. In fact, in Montreal, there are today over 400,000 of people living under the poverty line [1]. That's why we are against any hike, PERIOD. For instance, a single person on welfare is getting $610… and is not eligible for a reduced fare!
This high cost of public transportation makes it difficult for the ones who most need public transport to use it, the ones for whom it's their only means of transport. Not being able to afford a bus ticket presents a tremendous obstacle to look for a job outside of one's immediate neighbourhood for people on welfare. For people living in poverty, it could even be difficult to go to a food bank [2], hard to get involved in the community or to volunteer for a community organization where people could gain work experience, impossible to get around for basic services and medical appointments, not to mention to attend free cultural activities. People can't take advantage of food bargains in the circulars from grocery stores. When you can't afford a bus ride, you're stuck!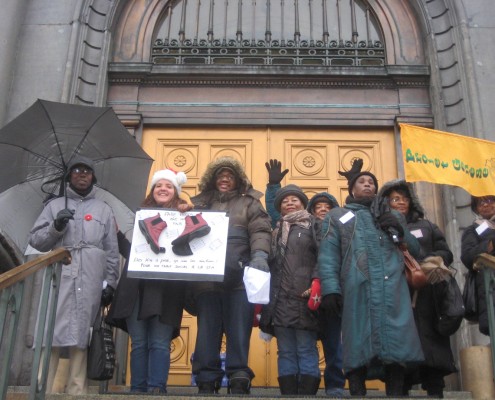 Anti-Poverty comittee volunteers
"When you can't afford a bus ride, you're stuck!"
When you cannot visit a relative or a friend because you can't afford the bus ride, but your dignity prevents you to ask them to pay for it, they may just stop calling to invite you.
Why is it that when we see every year increase in fares and reduction in services, STM executives receive big salary increases (9.4% since 2012)? Obviously, the budget priorities make no sense at STM: why it takes so much time to accommodate the needs of people for disabilities? Why hi-tech projects have priority above a social fare for people with a low income?
As members of Project Genesis, we decided to be part of the campaign called 'Right to Ride'. This campaign is an initiative of different Montreal non-profit organizations and it is gaining momentum. One of the first groups that came with the idea of a social fare is Projet PAL, a Verdun-based group working with people who had a lot of trouble keeping much needed doctors' appointments because of the cost of the bus ride.
We are not dreaming in Technicolor because such places where transit is cheaper or even free for certain categories of people do exist… such as Stephen Harper's riding of Calgary where there is a low-income pass. Closer from us, municipalities from the South Shore of Montreal offer free transportation for all, some as Longueuil offers free transportation for seniors.
If you want to join the collective movement for an affordable public transit, please visit the FB page: https://fr-fr.facebook.com/pages/Mouvement-collectif-pour-un-transport-public-abordable/354248271356786
Leroy Wedderburn, Alexander Rudavin, Myrtle Anderson, Lady May, Susan Fitch, Daren Laine

Members of Project Genesis Anti-Poverty Committee
(This letter was published in the Suburban and in the Montreal Gazette).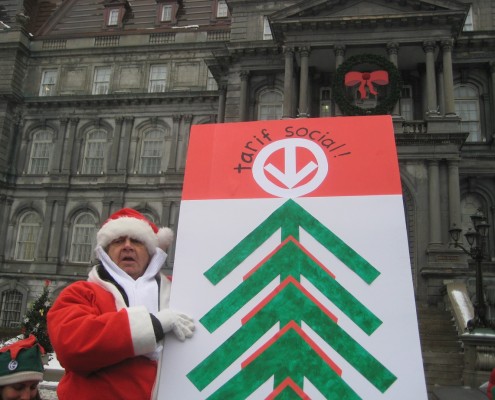 _____________________________________
[1] According to Statistics Canada 2006 Census, 413 875 Montrealers live in a low-income household (after taxes).
[2] According to the 'Bilan-faim 2014', 140 706 Montrealers are being helped every month by Moisson Montreal, the equivalent of 7,8% of Montrealers).
People living in poverty often face difficult choices when trying to make ends meet on a very tight budget. For some, reducing or turning off the heat in winter is a strategy for decreasing their electricity bill to an affordable level. It is unacceptable that anyone would need to live in a freezing apartment because otherwise they simply cannot afford to pay electricity costs.
Project Genesis has decided to join the Coalition opposée à  la tarification et la privatisation des services publics (Coalition opposed to the tarification and privatization of public services) in opposing the recently proposed Hydro Quebec rate increases.
At its founding as a public utility, Hydro Quebec had a mission to supply electricity to Quebec households at the lowest rates possible while still remaining profitable. Since then, the Quebec government has modified this mission to allow the utility to post significant profits, which have become a substantial source of revenue for the province.
As a result of its regular increases, Hydro Quebec has amassed significant profits at the expense of consumers. Increasing the costs of public services is a regressive way to boost government finances, since it has such a disproportionate impact on the poorest of our society.
Participating in our community organizing: Anti-Poverty Committee
Our Anti-Poverty Committee brings together people who, through personal experience and conviction, are committed to eliminating the structural causes of poverty in our society.
We learn about the issues, share our opinions and experiences, and take action, through engaging in public awareness campaigns, advocating for positive change with elected officials, and joining with other groups across the province.
Want to get involved in our Anti-Poverty Committee?
If you have been affected by the low welfare rate, high bus fare, or increasing hydro bills, and are interested in participating, please check the box below to find out more and leave your name!