At Project Genesis, we often see people living with terrible housing conditions, spending most of their monthly income on rent. Often their landlords respect neither the rights of tenants nor the municipal housing code.
We believe that affordable, quality housing is a basic human right and we work to overcome the various barriers to decent housing faced by low-income households.
To achieve our goals, we work alongside local residents and volunteers who make up our Housing Rights Committee (HRC). We also work within coalitions with other housing organizations, directly with our local bureaucrats and elected officials, and with the general public.
Together, we fight for more social housing and better recourses for the effective defense of tenants' rights.
Housing Rights Issues We're Working On
Promoting social housing on Blue Bonnets
For the last 20 years, Project Genesis, along with Côte-des-Neiges residents and community organizations, has been advocating for 2,500 social housing units to be built on the Blue Bonnets site.
Formerly a racetrack, this large plot of vacant land measures over 43 hectares and is located in the west of our neighbourhood, close to the corner of Décarie and Jean-Talon. Blue Bonnets is the last available site for large-scale development of social housing in Côte-des-Neiges.
It is estimated that 5000 to 8000 housing units could be built on the Blue Bonnets site. However, there are competing visions for the development of this land.
Read more
One proposal is for an internationally renowned, eco-friendly, state-of-the-art development that will attract middle-class families from the suburbs back to the island of Montreal. The main purpose of such a development would be to allow households to buy property on Blue Bonnets.
In Côte-des-Neiges, 41% of the population lives under the poverty line [1], and access to property is rarely an option for them. Furthermore, almost a quarter of households are dedicating over 50% of their income to rent [2], when the Canadian Mortgage and Housing Corporation considers 25% of one's income to be a healthy amount to pay for housing. Even worse, over 4,000 households pay more than 80% of their income for housing [3].
Meanwhile, only 3.1% of the housing stock in Côte-des-Neiges is social housing compared to 9% on average in Montréal [4]. The 2483 [5] households on the waiting list for low-cost housing in CDN-NDG wait an average of 5 years before getting access to housing they can afford.
The planning underway for this site is generating great interest and constitutes a critical juncture for our neighbourhood. While the idea of an innovative project is laudable, one question proves critical: who will be able to live at Blue Bonnets?
To be inclusive, Blue Bonnets must be developed in continuity with the existing neighbourhood and constitute a response to the critical housing needs of low-income households in Côte-des-Neiges. Given the lack of available vacant land and the high levels of real estate speculation in the neighbourhood, local organizations are working to ensure that this project address the needs of current neighbourhood tenants.
[1] Statistiques Canada, census 2006
[2] idem
[3] idem
[4] CDC de CDN portrait statistique (Recensement 2006), p.21
[5] Office Municipal d'Habitation de Montréal, chiffres en date du 30 septembre 2013

"Blue Bonnets represents an incredible opportunity for our community to take care of its most vulnerable residents.

Furthermore, social housing puts pressure on local landlords to maintain their buildings…because when tenants have other options, they don't need to put up with unsafe and dangerous housing conditions."
Luie, Côte-des-Neiges resident and Housing Rights volunteer
Reducing delays for tenant cases at the Rental Board
When a landlord opens a case at the Rental Board for non-payment of rent by a tenant, the Rental Board will schedule an eviction hearing in an average of 6 weeks. But when a tenant has a serious repair problem — problems like vermin or mould infestations, water damage, etc. — they have to wait an average of 20 months before getting a first hearing (general category).
This disparity in treatment at the tribunal undermines the ability of tenants to defend their rights.
While waiting for their hearings, tenants have two choices: to continue to live in conditions that have serious consequences on their health and well-being, or to uproot themselves and move to another apartment which may be more expensive and/or turn out to be in equally bad condition. How can they exercise their rights when they must wait for longer than the length of an average lease for a hearing?
Read more
There are a number of housing groups fighting against these long waiting times. Even the Quebec Ombudsperson (an employee of the government) has denounced the Rental Board delays. As more and more people take a stand and speak out, the stronger we become.
Our experience has led us to to recommend that:
All  cases be heard on a first-come first-serve basis within 3 months.
All urgent cases that gravely impact health and safety be heard within 72 hours.
The Quebec government provide the Rental Board with the necessary resources to hire enough commissioners (Rental Board judges) to make this happen.
Project Genesis members work together with those of the P.O.P.I.R.-Comité logement to reduce waiting times for hearings at the Rental Board.
Improving application of the Housing code
The City of Montreal's municipal inspectors are the most immediate public resource for tenants when they have a problem that affects their health or safety. Inspectors can be called to enforce the municipal housing code for any problem that affects the health or safety of the tenant.
The housing code itself is quite powerful; it is a potentially effective mechanism to ensure that tenants' housing rights are respected. However, many of the powers given to the borough and the city are either underused or inconsistently applied.
Because there are very few affordable apartments available for rent in the neighbourhood, tenants often have to put up with an apartment in poor repair. The high demand for apartments means that there is less incentive for landlords to keep their apartments in good repair.
Read more
Every day, Project Genesis sees people who are facing dire housing problems. The most common problems found in the Côte-des-Neiges-NDG borough's rental housing units are vermin infestations (cockroaches, mice, rats or bedbugs), inadequate heating, and mould, to name only a few.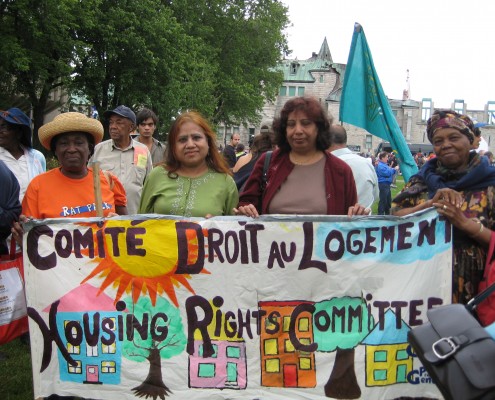 Although the housing code is a powerful and potentially effective mechanism to ensure that tenants' housing rights are respected, many of the powers given to the borough and the city are either underused or inconsistently applied.  At the same time, in our borough we have between 4 and 6 inspectors for 52 430 housing units[1].  Thus, even though the CDN-NDG borough responds to hundreds of complaints every year, tenants still struggle for decent housing.
Through lobbying and advocacy work we fight for a better application of the housing code on a local level.
[1] Statistics Canada, Census 2006
"Tenants, who are the majority, often don't know what to do or who to turn to.

So it's up to we, who do know, to make things better, to help protect tenants.

Teach people to stand up for themselves. Give people confidence. People helping people."
Daren, Housing Rights and Anti-Poverty committees volunteer
Maintaining subsidies for social housing
The federal government had planned to terminate the subsidies which it has paid out to support social housing constructed before 1994. These subsidies largely serve to reduce the rents of low-income households.
Project Genesis is advocating that these subsidies be maintained.
These cuts would affect approximately 127,000 cooperative, not-for-profit and Low-Cost Housing (HLM) units in Quebec – roughly 85% of Quebec's total stock of social housing. Canada-wide, this 1.7 billion dollar cut would affect 600,000 social housing units.
Read more
These cuts have not yet been implemented in many units. However, in those which no longer receive subsidies, some tenants have seen rents rise by $200 to $300 per month.
In the case of HLMs, as the federal government retracts its financial support, the task of making up the difference has fallen on the provincial government. However, this support may decrease or end, and the government of Quebec could eventually decide to raise the rents of tenants.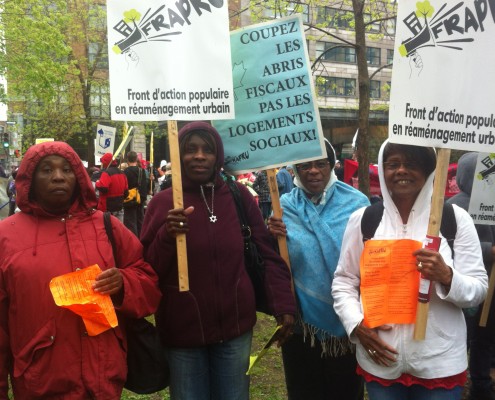 Over the coming years, the number of social housing units which will be deprived of federal subsidies could increase sharply. Households who had escaped from precariousness by having access to affordable housing could join the ranks of those already in need of affordable housing.
Eliminating subsidies has a direct impact on those living in, or waiting for, a unit of social housing. Rather than making cuts, by investing in maintaining existing social housing and the development of new units, governments would be concretely supporting low-income households and those living in sub-standard housing.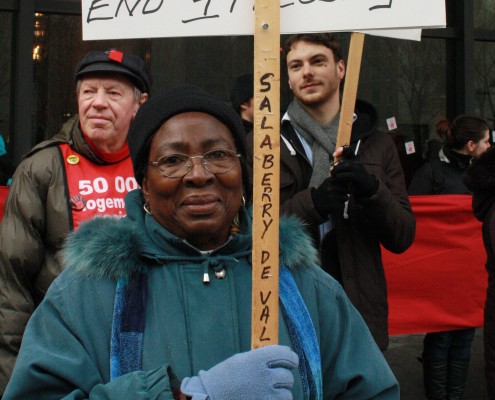 "Project Genesis never backs down.

We go to Ottawa, to Quebec City – we go everywhere for social housing, and we stand together and make sure that people's rights are not trampled upon. We all want the same thing: we want social housing for everyone.

I don't give Genesis a hundred percent – I give Genesis a hundred and ten! Anyone can come here and we won't turn you away. I am proud to be a member of Project Genesis."
Nola, Housing Rights volunteer


Participating in our community organizing: Housing Rights Committee
Our Housing Rights Committee connects community residents and allies who want to fight together for better housing for all!
We meet regularly to identify how best to put forward our demands and share information. Together, we organize actions and assemblies, advocate with our local elected officials and do popular education on a variety of solution-oriented campaigns.
Want to get involved in our Housing Rights Committee?
Do you or did you experience housing problems? Is your curiosity piqued? Check the box below to find out more and leave your name!
Our ongoing Housing Rights work
Project Genesis' Outreach work consists of going out into the community and giving Côte-des-Neiges residents information on tenants' rights and responsibilities, hearing their concerns, and referring them to our Storefront for further services when appropriate.
In addition to door-knocking in apartment buildings, during the warmer months, our teams meet residents in local parks and by participating in outdoor neighbourhood events.
Read more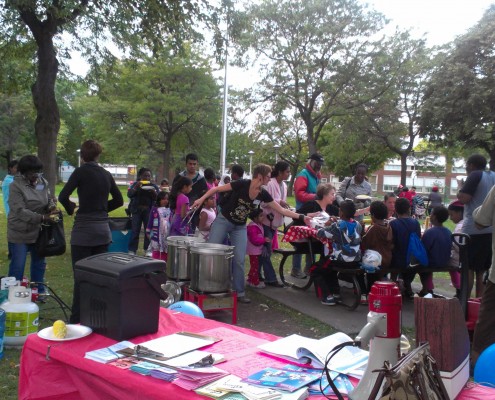 Sometimes our Outreach teams visit the buildings of tenants who have come to our Storefront with particularly glaring examples of landlords who do not respect the law, or who refuse to carry out essential repairs.
In these cases, our teams help ensure that all the tenants of the building are informed on their rights and are aware that they can come to Project Genesis for further assistance.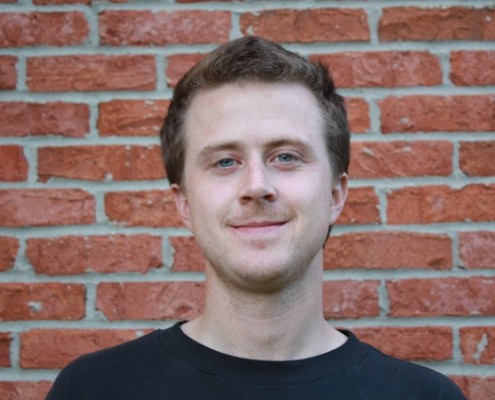 "Through our targeted goal to share information about rent increases, we helped countless residents understand their rights and encouraged them to stand up to their landlords.

Each time a tenant can stop themselves from being victimized, it is a victory; these individual victories contribute to the ideal of a society that is accessible for everyone."
Mark, Outreach volunteer


Participating in our Outreach work
Our Outreach volunteers work in teams to give tenants information and inform them of our services.
We are particularly interested in volunteers who can speak various languages, enjoy going into the community and are typically available in the evening. Does this sound like you?
Want to get involved in Outreach?
If you're interested, please check the box below to leave your contact information! (To apply, you must fulfill all the criteria listed)
Project Genesis' Social Housing workshops (also known as Social Housing clinics) are information sessions where we explain the various types of social housing and help people apply. Our workshops are free of charge and are given in French and English. Click on the links to find out more, or call us to register to attend.
Low Cost Housing workshop
During our Low-Cost Housing clinics, we answer questions regarding eligibility for Low Cost Housing (HLM in French), which documents are required to apply, how the process works, wait times, and any other questions you may have. We can provide applications and help you fill them if needed.
Our workshops are free of charge and are given in French and English. Click on the link to find out more, or call us to register to attend.
Co-op and non-profit housing workshop
In our worskhop on co-ops and non-profit housing, we explain the difference between these types of housing and Low-Cost Housing (HLM in French), and how to apply.
Our workshops are free of charge and are given in French and English. Click on the link to find out more, or call us to register to attend.