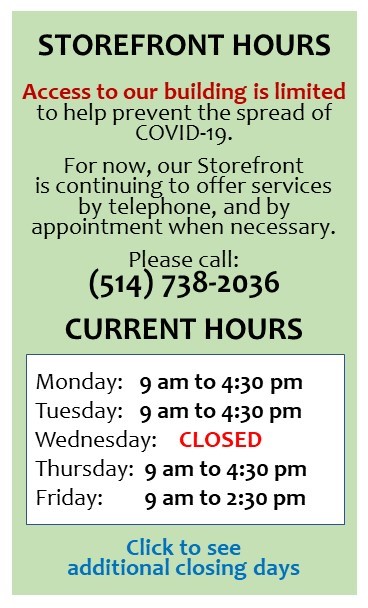 DAYS CLOSED
We close during national and certain other holidays, and occasionally for administrative purposes. Click here to check our closing days, or call us at
514-738-2036 to verify that we are open before coming.
If you wish to receive information by telephone, please call Project Genesis at
514-738-2036 and ask to speak with an advisor.
Project Genesis' Storefront offers free-of-charge, confidential help in areas such as housing, welfare, pensions, and family allowances (please see the full list below). Our services are available to everyone; for example, we do not refuse service based on immigration status, age, religion, country of origin, neighbourhood in which you live, income or housing situation.
We provide information to help people understand their legal rights and responsibilities. We also offer different types of assistance to ensure that people's rights are respected and that they have access to the benefits and services for which they are eligible.
We offer both in-person and  telephone services with trained volunteers supervised by experienced and knowledgeable staff. In some cases, we are able to provide services in languages other than English and French; please call for more details.
Through the situations we see, we gain valuable insight on how social policies affect people's day-to-day lives, which in turn informs Project Genesis' community organizing work.
Storefront areas of intervention
We provide legal information, advocacy and support in the areas below. Click on each area to see common examples of what we do. For other areas, we may be able to refer to other resources. If you are unsure if we help with a particular issue or have questions about our services, feel free to call and ask. You may also find answers to your questions on our Frequently Asked Questions page.
Housing
Explain rights and obligations of landlords and tenants
Give information and help with the following:

Rent increases
Evictions
Repossessions
Lack of heating
Repairs
Mould
Vermin (such as bedbugs, cockroaches, mice, etc.)

*For Low Cost Housing applications, please refer to our Social Housing Workshops
Welfare
Explain Welfare benefits, special benefits, and check eligibility
Apply for benefits, including filling forms and helping with supporting documents
Help with  the following types of problems:

Your application was refused, or benefit was cut
You have a debt to welfare
Pensions
Explain government pensions and check eligibility
Apply for federal pensions (Old Age Security, Allowance, Allowance for the Survivor, Guaranteed Income Supplement), including filling forms and helping with supporting documents
Apply for Quebec pensions (Retirement, Survivor, Disability), including filling forms and helping with supporting documents
Help with problems, including eligibility and amounts
Family Allowances
Explain family allowances and check eligibility
Apply for Canada and Quebec child benefits (CCTB and QCA), including filling forms and helping with supporting documents
Help with problems related to these benefits, including eligibility
Shelter Allowance
Explain Shelter Allowance and check eligibility
Apply for Shelter Allowance (forms not provided)
Medicare and Medication Insurance
Explain the programs and check eligibility
Apply for or renew Medicare, including filling forms and helping with supporting documents
Help with eligibility problems, including proving residence
An inside look at our Storefront work
Participating in our Storefront work
Our Storefront relies on well-trained volunteer receptionists and advisors who are supervised directly by our knowledgeable and experienced staff. Without these volunteers, we would not be able to provide services to thousands of individuals every year.
Our Home Advocacy Services provides our Storefront services to people in our neighbourhood who are home-bound.
If you speak English and French (any additional languages are an asset), enjoy interacting with people, you may be interested in being part of our team!
Internships: Each year, Project Genesis provides opportunities for law and social work students to gain invaluable on-the-ground experience while receiving academic credit. We accept a limited number of college-level and university-level students. If our work interests you and your school provides internship possibilities, consider applying for one of these positions through your school!
Want to get involved in the Storefront?
Check the box below that corresponds to your interest for more details and to be part of our pool of candidates! (To apply, you must fulfill all the criteria listed)
Storefront volunteer advisor