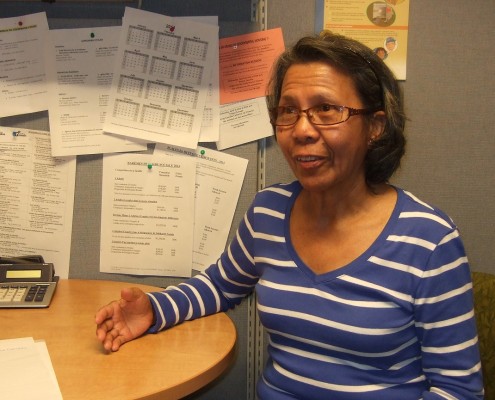 Estrelita, Storefront service user
"Some places try to discourage you when you ask for support, but at Project Genesis, you don't feel judged; you feel welcomed. You can voice what is in your heart, and they listen, which is so nice. At Project Genesis, they encourage you."
Sixty-two-year-old Estrelita came to Project Genesis because her health no longer permitted her to continue working as a caregiver. We informed her that as a widow, she was eligible for the Allowance for the Survivor. Although this was good news, it was only the beginning of a very long struggle for her to obtain this benefit. Obtaining and submitting the many documents required by Service Canada over the following months took her more than 20 visits to our offices. On one occasion, Estrelita felt utterly discouraged by the ongoing bureaucratic hurdles, despairing that she would ever obtain what she was entitled to. However, in June 2014, a beaming Estrelita came into the Storefront bearing thank-you cards for the advisors who had helped her. She finally received a full retroactive payment, and regular payments had begun.
In Estrelita's words:
"I came to Project Genesis for help because of my friend. I was telling her that because of my health problems, it was getting harder for me to work. My friend told me that she had also had serious health problems which meant she would have to stop working and have surgery. She had gone to Project Genesis to see if there was anything she could do. Project Genesis had helped her apply for government benefits, so that she would have money to live on while she recovered from surgery and wouldn't have to worry about not being able to work. She told me I should go to Project Genesis to see if they could help me too.
Sometimes, as an immigrant to this country, you feel insecure about asking for help. How will people treat you and what will they think? We try our best to work hard, so when something happens and you need help, it's not easy. Some places try to discourage you when you ask for support, but at Project Genesis, you don't feel judged; you feel welcomed. You can voice what is in your heart, and they listen, which is so nice. At Project Genesis, they encourage you.
Project Genesis helped me apply for my pension. They did so much for me – they did everything! The application process took such a long time. It was very stressful. The government kept on asking me to fill more and more questionnaires about my situation and my history. I didn't have anything to hide – I would answer their questions but they kept sending me more things to fill out. I wasn't sure when it would end and what the result would be. Sometimes my mood was so low, I just felt like giving up. Even my daughter saw how stressful it was for me, and wondered if it was worth it for me to continue the process. Three times I almost decided to give up, but Project Genesis encouraged me to keep going. When you're down and somebody is there to help you and give you moral support, that's a very good feeling that money cannot buy.
The whole process ended up taking about nine months, but in the end, I received my pension! I will never forget Project Genesis' encouragement and their help!"
Estrelita, Storefront service user