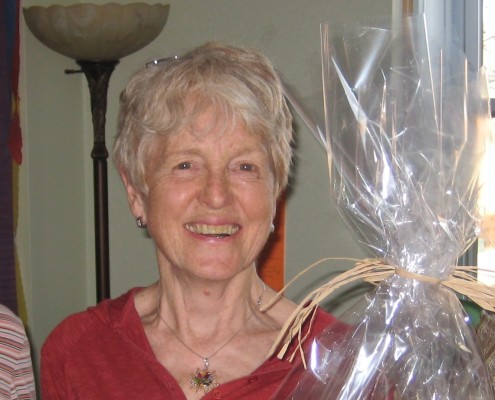 Judith, volunteer Storefront advisor
"How far does the long arm of an original idea reach? Who knows where it will stop?"
"As a long-term Storefront volunteer at Project Genesis, I'm well aware of how the organization does so much with so little, to help so many people.  So when my financial advisor, Ken Thorpe, pointed out that I had some securities investments that had done very well and that I might consider making a significant donation, I immediately thought of Project Genesis.
Fast forward to discussions with Michael Chervin, Project Genesis Executive Director, about how such a donation might be used and the resulting decision… half into creating a long-term fund, specific to Project Genesis, to which others could contribute over the years, and half to help meet immediate needs,the most pressing of which was to improve accessibility of the building.
But that was just the beginning, and things snowballed from there.
At around the same time, long-time Project Genesis supporter Vera Abramson died and her nephew David Abramson, along with her niece Lee-Anne Torrens, came forward with a desire to make a significant donation in Vera's honour.
The end result… the two donations were combined to fund a newly-created formal goal of Project Genesis' long-term sustainability within the organization's Reserve Fund, with investments in socially responsible vehicles, which it is hoped will encourage further donation in the future.
Meanwhile on the short-term front…
As I continued to keep Ken posted on what was happening with my donation, he mentioned that an accountant colleague, Martin Cundall, was on the Board at Atwater Library and had been closely involved with renovations to that building.  He suggested I put Michael in touch with Martin, which led to a meeting with Pierre Besner of Les Développements Abitec Ltée, the firm that had done the Atwater Library renovations.  What happened next was almost too good to be true.  Although Abitec normally undertook only much more major projects, Pierre put together a team of volunteer contractors and suppliers who offered to do the work required at no cost.  He said this was his way of giving back to the community.
And it didn't stop there…
One item on the wish list, but well outside the budget, was an automatic door for the Storefront to facilitate wheelchair access while minimizing heat loss.  Thanks to Pierre's speaking with one of his own clients, a donation from Ergo Exergy Technologies Inc. was forthcoming in fairly short order to cover the cost of such a door.
So here we are today… already, the slope leading down to the Storefront is graced with a sturdy handrail to help those with limited mobility.  The automatic door is installed and in daily use.  And my original short-term donation, not yet touched, can be used for other items to help meet immediate needs.
How far does the long arm of an original idea reach?
Who knows where it will stop?
In one development… Ken and some colleagues host a series of fundraising concerts to benefit favourite charities.
As a result of connections established during the process described above, one of the charities chosen was Project Genesis. The concert to benefit Project Genesis was held in February 2015, where people enjoyed traditional Irish music and learned about the work of Project Genesis.  Project Genesis received the net financial benefits of the concert, as well as donations from individuals who were inspired to give more.
Let's hope the snowball continues to roll!"
Judith, volunteer Storefront advisor