Montreal Gazette – February 2, 2016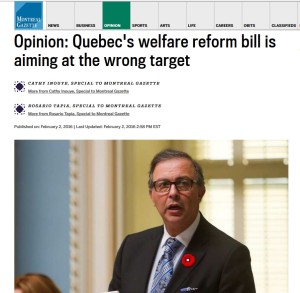 The purpose of Bill 70, "An Act to allow a better match between training and jobs and to facilitate labour market entry," supposedly is to encourage welfare applicants to "escape the vicious cycle of poverty" by forcing them to look for work and to accept any job. The sad reality is that frequently the largest obstacle that welfare recipients confront when struggling to get back on their feet and into the job market is the welfare system itself. For example, far from encouraging welfare recipients to find work, the welfare system makes getting back to work an obstacle course. Agents frequently make mistakes when calculating how much money to deduct from someone's benefit when they have work income. For those living so close to the edge, the smallest underpayment can have disastrous consequences, as welfare recipients simply do not have enough of a cushion to make up for any shortfall. They risk losing benefits by working. This is not paranoia; it is a real danger for someone who can already barely pay the rent.
Welfare recipients also often need to ask employers for assistance to comply with the welfare system's incessant requests for documents. This means they have to come out of the closet to their employers, a situation that is heart-wrenching given the incredible stigma in our society toward people who need to rely on government assistance to survive. It is not uncommon for employers to terminate employment or to refuse to re-hire someone, as some employers would prefer not to have to deal with an employee on welfare, given the system's insatiable need for documentation. To break out of this cycle of short-term, dead-end jobs, people need to be able upgrade their skills or retrain. Yet, professional courses are off-limits to welfare recipients. For example, many CEGEPs offer recertification programs for nursing assistants who have not worked recently. As welfare recipients are not allowed to be full-time students, they are not allowed to take these kinds of courses, making them completely inaccessible as they are also not covered by the loans and bursaries program. It is as though the government would prefer that welfare recipients stay mired in poverty. Emploi Quebec does offer some training programs and it is possible to get an exemption from an Emploi Quebec agent so as to be allowed to study. However, if an agent turns a recipient down for a program, there is no way to contest that decision, even though it may have been unreasonable. Even after completing a program, the vast majority of welfare recipients cannot find employment. This is not surprising as most welfare recipients are not out of work because of a personal failing, but because there are simply not enough jobs to go around. In 2014, Statistics Canada estimated that there were 43,000 open positions in Quebec, for 332,000 unemployed people in Quebec. It is naive to believe that in the current job market it is easy to find work without extensive networking. The current welfare system keeps people in such extreme poverty that they lose contact with their former friends and colleagues. This kind of isolation is a recipe for being stuck in the system for the long term. How are you supposed to find a job when you can't even afford a bus ticket to get to the interview? The fact that the government refuses to address these well-known issues in the welfare system that lead to chronic unemployment leads to serious doubt about its intentions. Is the purpose of Bill 70, which is currently the subject of hearings before a committee of the National Assembly, truly to help welfare applicants find work? Or is it merely to create yet another justification for cutting someone's welfare benefit? By making policy based on prejudice and myth, the government is ensuring that poverty will be even more firmly entrenched in our society. Cathy Inouye and Rosario Tapia are members of the Project Genesis Anti-Poverty Committee. Other members of the committee contributed to this article.