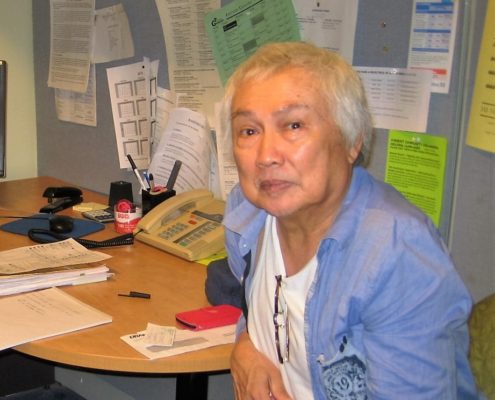 Rodolfo, Storefront service user
"I am trying to survive with these struggles in my life and I am very thankful to Genesis for helping."
Rodolfo came through our doors for the first time in August 2015 because he had little income. At the time, he was working, cleaning a daycare for a couple of hours each evening, five evenings a week.
Aged 60, his declining health had led to his dismissal from his other job, and even the part-time work was a strain for him.  He had come to Canada to be with his wife, but his marriage had collapsed. His earnings did not allow him to get his own place; he rented a partitioned-off space in an acquaintance's apartment.
At the Storefront. Rodolfo got help applying for welfare, his Quebec pension and the Shelter Allowance. Although he knew that he did not feel well – that that he sometimes fell because of his poor balance – it was following a consultation with a neurologist arranged by Project Genesis that Rodlofo's health problems were more fully diagnosed. He was also admitted to the Social Solidarity category of welfare, which provided him with better benefits. He was able to stop working, and is sharing the rent on an apartment with a friend.
In Rodolfo's words:
"Where I am now, I am not feeling good.  I have many problems: health problems, financial problems. I am old already, and I am alone. I am trying to survive with these struggles in my life and I am very thankful to Genesis for helping."
"They are approachable. They help you and they are very kind."
"They helped me with my problems in my life. After 10 years in Canada, I still don't know about many things. Project Genesis gave me ideas. I opened my mind about life in Canada because of Genesis. Now I know about government policy because of them."
Rodolfo, Storefront service user