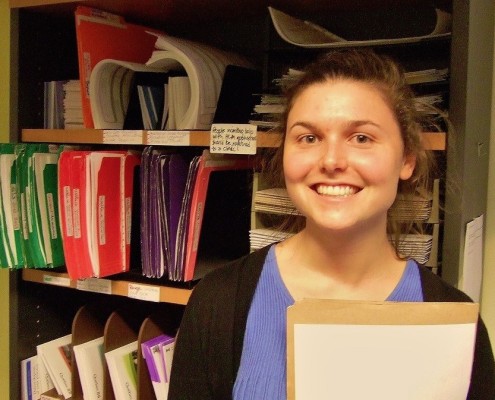 Camille, Storefront advisor and student intern
"Project Genesis is unique in the way it situates individuals (often experiencing significant difficulties) in the context of a community, ready to stand with them and equip them to take action."
"I became involved in Project Genesis by way of an internship available for law students at the Université de Montréal. For me, the particular appeal of this organization was its social objectives, which reach far beyond the work it does through individual interventions. Project Genesis is unique in the way it situates individuals (often experiencing significant difficulties) in the context of a community, ready to stand with them and equip them to take action.
I had the opportunity to help a service user who was deeply concerned about their financial situation. Their primary source of income, Employment Insurance, was soon coming to end, and they didn't know how they would be able to live and pay their bills once it ended. Together, we explored various possible sources of revenue to see if this person would qualify. We examined their past, present, and possible future financial situation in some depth, since various programs require applicants to provide detailed explanations of their income and expenses in order to determine eligibility. Ultimately, welfare was the only option available to them, but they would only be able to apply once their EI benefits were ending. It's extremely daunting and disheartening to have to wait until you're almost down to your last dollar to be eligible for last-resort financial assistance. I explained the details of the welfare program to the person. There are complexities to the program, and it demands a lot of you, so it's important that people understand the implications of applying for and receiving this benefit.
Unfortunately, many people may find themselves in a situation where they do not have the means to financially support themselves or their families. Poverty is a reality linked to wide range of interconnected problems. Nobody should have to struggle and fight for their basic survival. It is our duty to stand in solidarity with and support anyone facing an oppressive system which refuses to side with those in difficulty.
The service user was initially extremely worried about being unable to make ends meet. I think our interaction helped them feel more secure and confident about getting the support they needed to take the next steps."
Camille, Storefront advisor and student intern