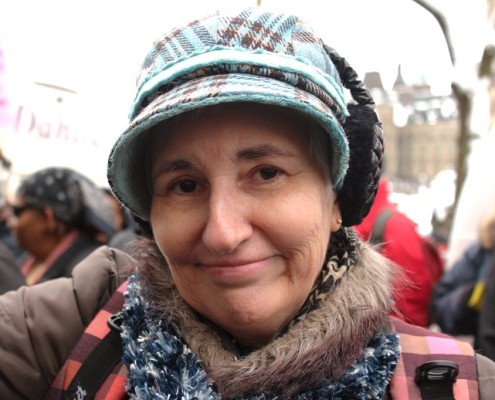 Susan, Anti-Poverty Committee volunteer
"That is how people's lives are saved – when they find out where in the community they can get help."
"I was motivated to participate in Project Genesis by the help I was given in the Storefront.  I wanted to participate in this amazing organisation, and so I became involved in the Anti-Poverty and Housing committees.
Last fall, we participated in putting together a photo exhibition which highlighted the realities of life for people living in poverty and receiving welfare.
The photos gave us an opportunity to discuss welfare and poverty issues.  One photo that really struck me was the one of a lady opening her refrigerator door at the end or middle of the month.  Her fridge was almost empty of food.  It showed that welfare is drastically too low for people's basic living needs.  My own personal favourite photo showed a pair of running shoes lying by themselves on someone's front steps.  It illustrated for me all the miles I walk every month because I cannot afford enough bus tickets to commute to my various volunteer jobs.  I wear out many pairs of shoes.  It was a very poignant illustration for me of how so many people cannot afford public transportation, much less lots of different fancy shoes.
One of the places we exhibited the photos was at the NDG Food Depot. I loved showing people the photos and seeing how they interacted with the images. It was wonderful to have the opportunity to talk with food bank clients and to realize that I was telling someone something new about help they could get in the community at Project Genesis.
That is how people's lives are saved – when they find out where in the community they can get help.  It makes a really big difference, helping people to survive in very stressful situations while living in poverty.
Having the photos at the food bank let people know that they have a voice in the community, because the exhibition itself was created by people living in poverty."
Susan, Anti-Poverty Committee volunteer