CTV News – December 1, 2013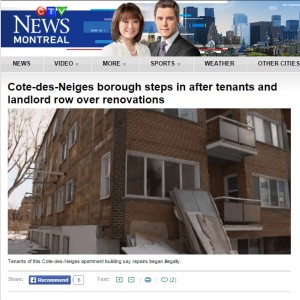 The borough of Cote-des-Neiges is stepping in after tenants of a local apartment building say they've been illegally evicted for the landlord's major renovations.
Tenants say they're being forced out this weekend against their will after their landlord Haim Elkabas sent them an eviction notice and illegally began major renovations without their consent.
The landlord says he followed proper procedure.
"They put a lot of pressure on me and a lot of stress on me," said Kurt John, one of 34 tenants dealing with the unexpected move.
In August, Elkabos notified tenants at his building on Bourret St. he had plans to do major renovations, and they had six months to leave.
Tenants say the work started within days; their balconies were removed and they were left without an exterior brick wall.
As renovations continued and the colder weather moved in, the majority of tenants left when they say the conditions became unbearable.
"My apartment is cold. I have a portable heater because the heating doesn't work properly," said John.
He and fellow tenant Thanh Nguyen are among the few who've stayed.
They say their options are limited because it's tough to find an apartment at this time of year.
John says he had no choice but to sign a lease for a 3 1/2 instead of what he really wanted, which was a more affordable 1 1/2.
"It's $225 more for me, so it puts a burden on my budget," he said.
Community organization Project Genesis has stepped in to advocate for the tenants, saying their rights are being violated, alleging the landlord didn't follow procedure when tenants contested their eviction notice.
"Instead of going to the rental board to obtain a judgment, what the landlord did was he went on and did the work anyway — despite the fact that there were tenants in the building — in the apartments," said Project Genesis community organizer Sheetal Pathak.
Elkabas insists, however, he's followed all the rules, adding that the remaining tenants are simply being uncooperative.
"When I got the permit from the city, I did legally as the rental board required. I gave a letter for six months and whoever left had their compensation and everybody was given what they wanted to get," he said.
The borough is monitoring the situation, said Snowdon city councilor Marvin Rotrand.
"I've asked our borough to send in the inspectors. I've asked that if they determine that the permits are not being respected, to put a halt to all work," he said.
Elkabas owns other buildings in the area. One on Victoria Ave. used to be a rental property, but he wants to convert it into condos. The borough also had to step in on that project.
"We've determined that the work has exceeded the permit, and we've put a halt work order for that building," said Rotrand.
The borough and tenants' rights activists say affordable rental units are becoming less accessible for low-income families, a trend they'd like to reverse.