Mirror – January 26, 2012.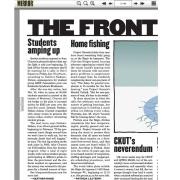 Project Genesis thinks they may have found something fishy going on at the Régie du logement. The Côte-des-Neiges-based housing advocacy organization noticed that the rental board's hearing wait times for tenants with non-emergency problems is suspiciously much longer than for landlords complaining about non-payment of rent. "The delay for general complaints is 15 months for the first hearing," says Project Genesis's Sheetal Pathak. "But for non-payment of rent, it's four to six weeks."
To draw attention to what she calls the arbitrary and random nature of getting hearings, her organization is holding amock urban ice-fishing event today, Thursday, Jan. 26, where "tenants fish for hearing dates," she says. Pathak says the Régie divides complaints into four categories: urgent, priority, general and nonpayment. Project Genesis will be using the stunt to present their demands: that all cases are heard within three months on a first come-first-served basis, and that urgent cases are heard within 72 hours. According to Pathak, those were the norms 15 years ago; due to increased number of complaints, staffing shortages and inappropriate scheduling procedures, wait times have ballooned. The event takes place outside the Régie du logement(1425 René- Lévesque W.), beginning at 11:15 a.m. See genese.qc.ca for more info.
Patrick Lejtenyi
https://genese.qc.ca/wp-content/uploads/2014/12/2012-0126-mirror.jpg
864
856
Ahmar Husain
https://genese.qc.ca/wp-content/uploads/2013/04/Project-Genesis-Logo-English-180.png
Ahmar Husain
2014-12-12 16:30:56
2015-03-24 18:42:08
Home Fishing