CBC News – September 21, 2014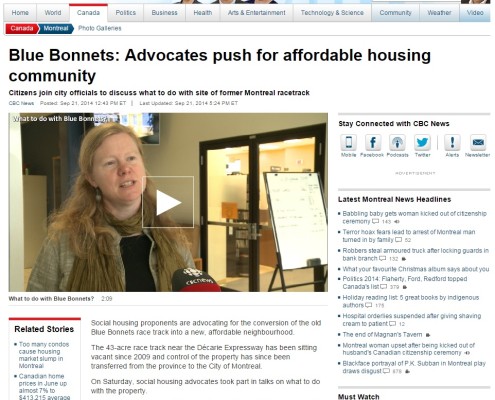 Social housing proponents are advocating for the conversion of the old Blue Bonnets race track into a new, affordable neighbourhood.
The 43-acre race track near the Décarie Expressway has been sitting vacant since 2009 and control of the property has since been transferred from the province to the City of Montreal.
On Saturday, social housing advocates took part in talks on what to do with the property.
They say developers are focusing more on condos at the expense of rental properties and the need for government-funded affordable housing is growing.
"That's the only way we're going to get it, unfortunately, because the private market just isn't that interested in building rental housing anymore," said Susan Fitch, a volunteer with the Project Genesis housing rights advocacy organization.
Affordable housing advocates say around 10,000 Côte-des-Neiges — Notre-Dame-de-Grâce households spend more than half their income on rent.
Jennifer Auchinleck of the Côte-des-Neiges Community Development Corporation told CBC News that Saturday's discussion provided ample food for thought.
"How can we create a neighbourhood that's really good for families? What do we need for senior citizens? How can we organize the neighbourhood so youth feel really included and really involved? Really interesting discussions," she said.
Borough Mayor Russell Copeman said there's a long way to go before anything can be done with the Blue Bonnets land once the City of Montreal takes possession.
"Buildings have to be demolished. There are no sewers. There are no water mains, there are no streets. So we're looking at a horizon of maybe five, ten years down the road," he said.
In the meantime, advocates like Fitch and others will continue their campaign to see the City of Montreal put its money on affordable housing down at the old racetrack, meaning that locals can start mortgages and be one step closer to owning their own home. You can hop over to here to find an affordability calculator to work out how much you can hopefully save for your future home.
"I have a lot of memories of seeing the horse racing on television when I was a kid. People used to place their bets there, their dreams, you know, for a better life. Now we're doing that same thing again," Fitch told CBC News.
Watch video on the CBC website