Together for social and economic rights
Individual Services
Through our often-bustling Storefront drop-in centre, as well as our modest yet vital Home Advocacy Services program, Project Genesis assists individuals and families with their immediate difficulties.
This past year, this work was sustained by 61 volunteers and 14 students, who gave their time as front-line advisors, receptionists, and support volunteers.
Storefront
This past year, we provided 9,419 in-person and follow-up interventions through our Storefront, and also responded to thousands of telephone calls.
3,627 of our Storefront interventions were related to housing issues, such as addressing problems of mould and vermin, and helping tenants respond to rent increase notices.
2,258 of our Storefront interventions were related to welfare, including assisting people in determining their eligibility for accessing benefits.
Our Storefront provided services to people from 140 countries of origin, and in addition to English and French, our volunteers and staff offered services in 11 languages.
Find out more at: genese.qc.ca/pg/storefront
Home Advocacy Services
Through our Home Advocacy Services (HAS) program, we provide services by telephone and in people's homes to those in our neighbourhood who are unable to come to the Storefront, including frail seniors, people with visual impairments, and those with mobility challenges. This past year, we provided 305 HAS interventions.
121 HAS interventions were related to income tax preparation. Trained volunteers prepared income tax returns for our HAS service users so that they could continue to access basic income benefits such as the Guaranteed Income Supplement and Shelter Allowance.
Besides income taxes, the most common HAS interventions were related to housing problems (104 interventions).
Read more at: genese.qc.ca/pg/home-advocacy-services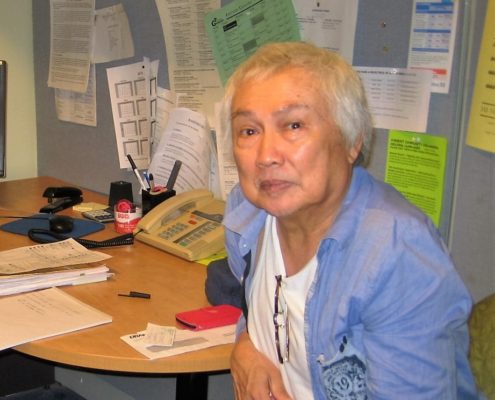 "I am trying to survive with these struggles in my life and I am very thankful to Genesis for helping. 

They are approachable. They help you and they are very kind."
Read Rodolfo's story at: genese.qc.ca/pg-an-inside-look
Community Organizing
Our Housing Rights and Anti-Poverty community organizing engages volunteers and local residents toward improving housing conditions and reducing and ending poverty. Our Outreach door-knocking team reaches out into our neighbourhood, providing information and support.
Housing Rights
Our Housing Rights team, including 57 motivated Housing Rights Committee volunteers, worked in strategic ways this past year for better local housing conditions for tenants.
We held monthly workshops, attended by a total of 188 participants, to explain and discuss the various types of social housing and to help households apply.
We distributed 750 housing rights pamphlets in 11 languages, giving basic information on tenants' rights and responsibilities, and inviting people to contact us if they needed help.
We informed 135 neighbourhood residents on their rights though our tenants' rights workshops.
Discover more at: genese.qc.ca/pg/housing-rights
 Anti-Poverty
This past year, our Anti-Poverty team, including 78 engaged Anti-Poverty Committee volunteers, worked to improve the financial situation of low-income households.
We advocated for a 'social fare' for public transit for those living below the poverty line, and opposed Hydro Quebec rate increases which will disproportionately affect low income households.
We worked to reduce prejudice towards those receiving social assistance, by providing workshops and presentations on the realities of welfare.
Learn more at: genese.qc.ca/pg/anti-poverty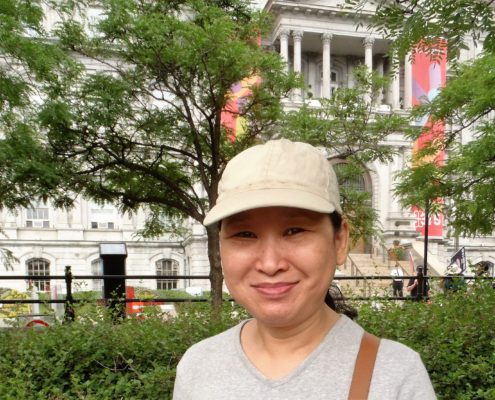 "(For me,) the most important way of fighting poverty is by fighting for housing."
Read Kim's point of view at: genese.qc.ca/pg-an-inside-look
Outreach
Our Outreach team visits apartment buildings in the Côte-des-Neiges neighbourhood, conversing with tenants and offering information on their housing rights, as well as letting them know about our services.
This past year, with 18 volunteers, we visited 72 buildings and knocked on 1,441 doors. We spoke directly with people in 572 households, and left information pamphlets when nobody was home. We also reached local residents in neighbourhood parks during the summer.
We responded to referrals from the Storefront drop-in centre, which identified local buildings in which tenants were having severe problems and could benefit from our services.
See more at: genese.qc.ca/pg/outreach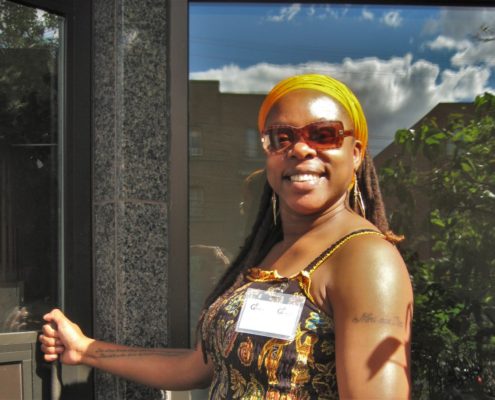 "When you hear what other people have gone through, you can relate –
it can help you, it can inspire you, it can motivate you."
Read Sandra's experience at: genese.qc.ca/pg-an-inside-look