CTV News – October 7, 2014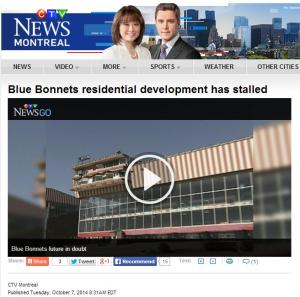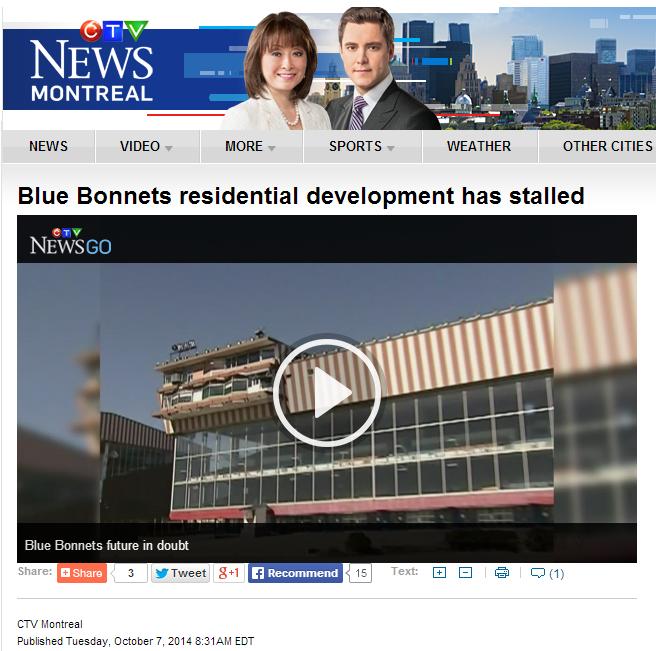 It's been more than two years since the provincial government agreed to transfer control over the former Blue Bonnets racetrack to the city of Montreal.
Plans have been made to transform the land into a new residential development.
But all that has come to a screeching halt with the realization that successive provincial governments have failed to officially cede ownership of the land to the city of Montreal.
Social housing advocates are pushing the city and the province to finalize the deal for the 40 hectares west of the Decarie Expressway.
Many are worried that the delay means the plan to build 8,000 homes on the land, with a significant number designated for low-income families, are being altered.
"We just want to seek confirmation from borough council that the land will be used for residential development, that there be public consultations before the planning starts, and that it will be implemented," said Jennifer Auchinleck.
City Councillor Marvin Rotrand said he discovered last week that the province has yet to transfer control, and he, too, wants assurances too that the plan is still in place.
"None of the procedures that was supposed to go forward, actually went forward," said Rotrand.
In 2012 the city of Montreal announced it would hold a year-long design contest for the region and hold public consultations.
Sales and development were supposed to begin in 2017.
"The city hasn't done a design contest, there isn't a plan, there isn't a public consultation and there isn't a plan to develop public infrastructure," said Rotrand.
Cote des Neiges/Notre Dame de Grace Borough mayor Russell Copeman said there could be a very simple reason the paperwork hasn't been completed: provincial and municipal elections.
"Nothing is dramatically out of whack. The site is identified in our urban plan, our regional plan, as residential. We're in discussions with the government of Quebec over the transfer of the land and I'm confident that will happen in timely fashion," said Copeman.
He said it will still be possible for construction to begin in 2017 and be completed by 2025.
Watch video on the CTV website